Pronar MRW 1.300 Slow-Speed Shredder
Direct Drive 550HP (405 kW)
21 or 42 knife configurations made of wear resistant materials
Easy-change bolt-on knives and hooks combination
Counter knives system with adjustable bar pressure change system
Large hopper capacity and dual conveyor belt system
Product Overview
The Pronar MRW 1.300 slow-speed high torque shredder is a single-shaft heavy-duty shredder machine intended for pre-shredding of green organic waste, wood, biomass, paper, plastics and films, small scrap, or bulky waste. Offering a single 21 or 42 knife configuration with counter knives and sieve, the MRW 1.300 is unquestionably one of the best single-shaft shredders available. Other core features include: a Volvo Penta 12.8l engine with 550HP (405kW), incredible maneuverability, easy-change bolt on knives, and a large hopper. The shredder also has a maximum throughput of up to 120 tons per hour.

24 Month / 1500 Hour Limited Warranty.
This shredder features high drive efficiency utilizing a Volvo Penta 12.8l, 550HP (405kW) stage V/Tier 4 final, engine. Equipped with wheeled chassis, it can be transported to anywhere on the jobsite. Within its single shaft, there are 21 or 42 sharp knives, counter knives, and sieve that work together to tear through nearly any kind of material that enters its hopper, whether it's bricks, roots, scrap, or concrete. The shredder features a throughput of up to 120 tons per hour, depending on the input material.
Engineered from solid, wear-resistant steel, the MRW 1.300 has the durability to withstand some of the toughest workloads in the industry, offering unmatched shredding power for any job. This incredible toughness matched with, reliability, and mobility makes the Pronar MRW 1.300 the ideal choice for companies that are looking for an upgrade or replacement in their fleet.
Applications
This product can be used for the following applications:
Green Waste Disposal & Recycling
Hazardous Waste Disposal & Recycling
Industrial Waste Recycling
Features & Advantages
Transportable Shredder Advantage
The Pronar 1.300 Slow-Speed Shredder brings mobility right to the jobsite. The shredder features a wheeled chassis and can be attached to a truck or a low-bed trailer to transport the machine on public roads at a speed of up to 62mph (100km/h).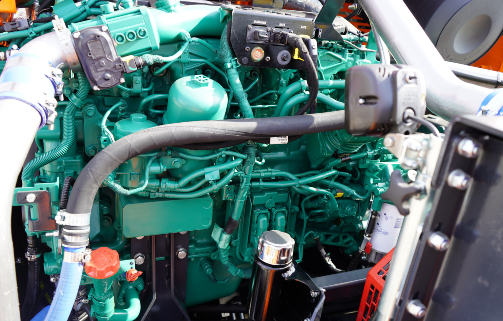 Powerful Engine
For optimal shredding power, the machine is equipped with a Volvo Penta 12.8l, 550HP (405 kW), Stage V/Tier 4 Final diesel engine. This fuel-efficient model has a 169-gallon (640 Liter) fuel tank capacity that promotes low fuel consumption to keep the shredder working longer during the workday. Its hydrokinetic clutch mechanism guarantees up to 95% efficiency in power transmissions. In addition, the engine features improved noise protection and is easily accessible for quick maintenance.
Efficient Throughput
The Pronar 1.300 is an all-purpose shredder designed for the pre-processing of a very wide range of materials. Its powerful knives and superior biting force allow it to sink its teeth into some of the toughest materials and rip them down into the ideal shred size. When operating at maximum efficiency, this shredder machine has the power to shred:
120 tons of wood waste per hour
80 tons of municipal waste per hour
75 tons of green waste per hour
400 cubic yards of bulky waste per hour
400 cubic yards of industrial waste per hour
User-Friendly Controls
The operator of the Pronar 1.300 has complete control over the entire shredding process. The shredder is equipped with a handy, user-friendly control panel that features customizable programs. These programs can be configured based on the type of input material, which guarantees maximum shred size for every operation. The touchscreen control panel provides the control parameters of the shredder along with adjustments to the hydraulics settings. Control is literally right at your fingertips.
Heavy-Duty Shredding Power
Optimized shredding strength is exactly what you get with this heavy-duty shredding machine. Each well-crafted component within this machine is designed to enhance the shredding capabilities. Its solid single shaft operates at a max speed of 37 rpm and features a loading height of up to 112". Depending on the type of material, this shredder has the power to render its materials to a shred size of about 2" to 6" utilizing its aggressive biting force.
Built for Durability and Efficiency
The Pronar 1.300 Slow-Speed Shredder is engineered by experts to provide superior shredding power. Built with functionality and serviceability in mind, the shredder features a single shaft, 21 or 42 knives, counter knives, and sieves that are all manufactured from high-quality steel for trouble-free operation. Additionally, it has a 55" wide out-feed belt with adjustable discharge height and a tilting hopper for direct in-feeding of extra-long materials.
Product Specifications
Throughput (>40t/hr):
Yes
Dimension of Working Shafts(LxD):
118" x 38"
Working Chamber Dimension(LxW):
143" x 86"
Shred Size (Depending on Material):
2" to 6"
Warranty:
24 Month / 1500 Hour Limited Warranty